Darmstadt Dribblers
Shortfilm Premiere at Discovery-Channel in London with Live-Presentation of Bruno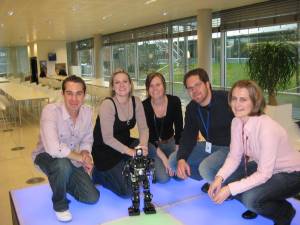 from left to right: Bruce Meier (Executive Producer ), Helen Rosie and Danica Macpherson from EMEA Creative Discovery Networks Europe, Sebastian Jakob and Anguelina Vatcheva (Darmstadt Dribblers), front: Bruno (Darmstadt Dribblers)
15 countries, 16 languages, 17 directors and 37 stories - that was the subtitle of the Discovery Channel EMEA Short Film Premiere. One of those 17 directors was Tom Evan from the production company brothers and sisters, who was accompanying the Darmstadt Dribblers during RoboCup 2007 in Atlanta. His 3-minute short film gives a brief glimpse of RoboCup and the people involved in it. As the film focuses mainly on our team, we were invited to come with a robot to the premiere in London.
At this Discovery internal event a choice of 11 out of 37 short films were presented, among those also the RoboCup contribution. Afterwards the visitors had the opportunity to see the robot in action and to talk with us about RoboCup. Many of them had never heard of RoboCup before and were really enthused.
The shorts will be broadcasted on Discovery Channel regulary in early 2008.